Revive Efforts to Reduce Stocks of HEU and Plutonium
Finding
No countries have eliminated their stocks of weapons-usable nuclear materials–highly enriched uranium (HEU) or plutonium–since 2016, and the number of countries with these materials has plateaued.
Data Highlights
The number of countries with 1 kilogram or more of weapons-usable nuclear materials in the NTI Index went down from 32 in 2012 to 22 in 2018. In 2020, there was no change.
Six countries decreased their overall quantities of weapons-usable nuclear materials over the past four years. These small decreases were not significant enough to improve those countries' scores, however. Increasing the score for quantities of materials would require moving into a lower scoring band (e.g., from 5 to 20 kilograms of materials for a score of 7 to less than 5 kilograms for a score of 8).
Four countries continue to increase their quantities: India, North Korea, Pakistan, and the United Kingdom.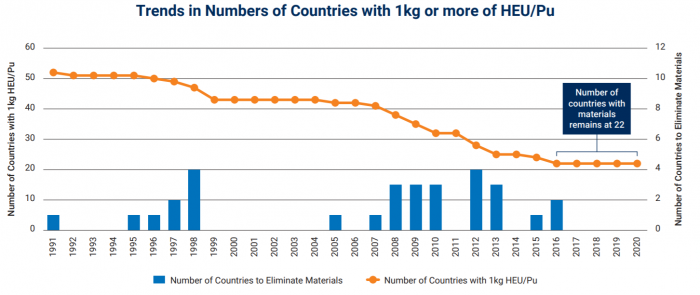 Recommendations
The international community should revive efforts to reduce stocks of HEU and plutonium.
More work is needed to address civilian stocks of nuclear materials in countries that continue to possess HEU or plutonium, including identifying and tackling technical and political challenges to further eliminations. Recent advances in new low-enriched uranium (LEU) fuels will allow additional research and test reactors to convert from HEU and provide more LEU fuel options for new research reactors. These developments will help eliminate the need for new HEU production. HEU holders could front-load domestic blend-down operations to reduce HEU in storage.
Countries with plutonium should seek to reduce stockpiles to minimum levels necessary for energy purposes and to avoid new production that lacks near-term users. Forward movement on spent fuel storage will relieve pressure to separate additional plutonium.
Meanwhile, given the continued possession, use, and transport of weapons-usable nuclear materials, countries should focus on long-term, sustainable stewardship of their materials as long as they continue to possess them.
Countries that continue to possess weapons-usable nuclear materials should protect them to the highest levels and build public and international confidence in their security by publishing regulations and reports of progress, hosting peer reviews, and making declarations about quantities.
Countries should focus on the tools necessary for long-term, sustainable stewardship of nuclear materials and technology, including building a strong security culture, boosting capacity through training and education, and strengthening the ability to mitigate cyber threats.