Sustain Political Attention on Nuclear Security
Finding
Progress to secure nuclear materials and nuclear facilities has slowed significantly in the past two years, and high-level political attention on nuclear security has waned.
Data Highlights
Several metrics show that while countries are improving overall, progress has slowed. (See Figures below)
Using the median score as a metric, countries' overall scores continue to increase in all three rankings.
The number of countries with improved scores has declined since 2018 in all three rankings, showing that progress has slowed. The number of countries with worsening scores has increased since 2018 in all three rankings.
The average amount that a score improved has declined in all three rankings compared with previous years, showing that even countries that are improving are taking fewer actions.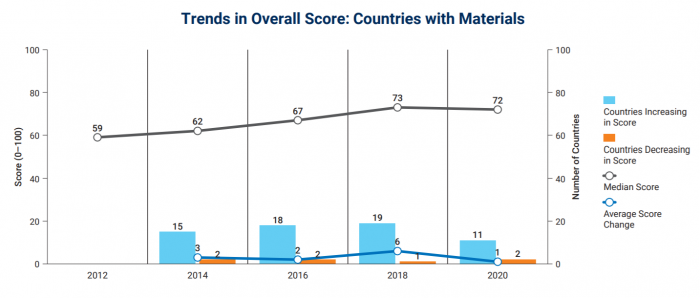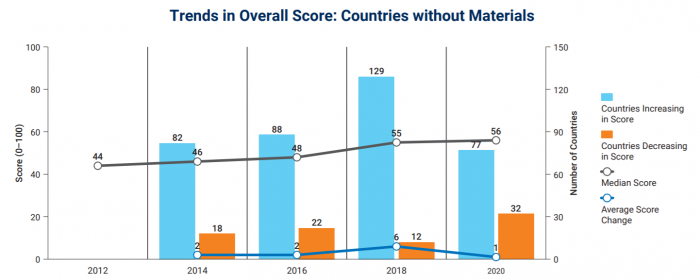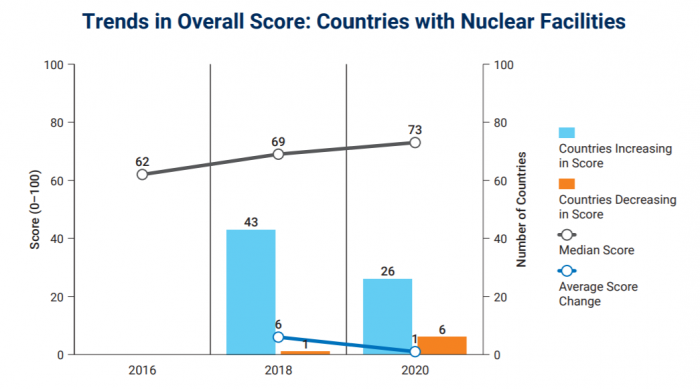 Recommendation
To drive country action and progress in nuclear security, countries must sustain political attention on nuclear security.
Greater effort is needed to strengthen and sustain political attention on nuclear security and to make continued progress in improving national regulatory frameworks and building an effective global nuclear security architecture.
Countries should take advantage of upcoming conferences and meetings to increase attention and accountability by sending high-level delegations and using such opportunities to report on progress and make new commitments. Upcoming opportunities include the 2021 review of the amended Convention on the Physical Protection of Nuclear Material (CPPNM), the next International Atomic Energy Agency (IAEA) International Conference on Nuclear Security (ICONS) in 2024, and smaller venues such as annual meetings of the Global Initiative to Combat Nuclear Terrorism, the Global Partnership Against the Spread of Weapons and Materials of Mass Destruction, and the IAEA General Conference.
High-level political attention is also needed to generate actions at the national level to strengthen domestic nuclear security. Senior government officials should place nuclear security high on national agendas to demonstrate to regulators, policymakers, and operators that nuclear security is a priority.
Senior officials should also incorporate nuclear security into high-level discussions with their counterparts from other countries to try to galvanize political attention elsewhere.