Assessment of the Global Nuclear Security Architecture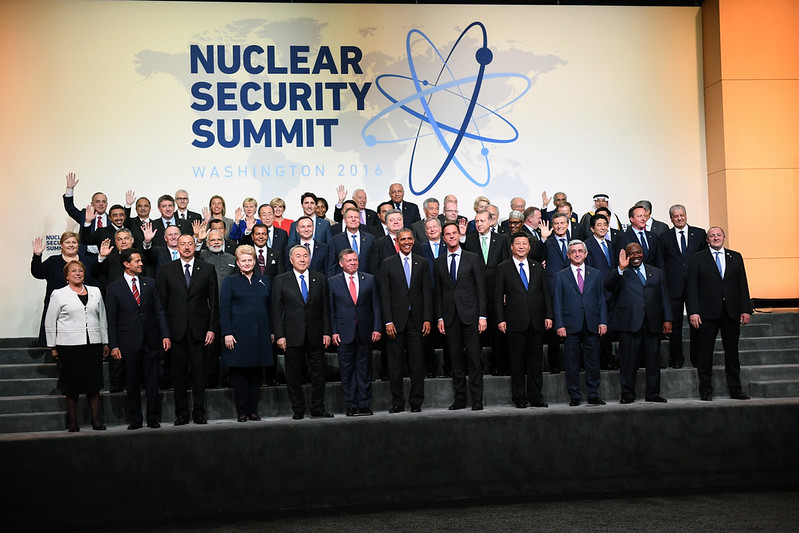 ---
An effective global nuclear security architecture to protect vulnerable nuclear materials and facilities remains elusive. In the absence of an effective system, progress that countries have made to reduce the risks of theft and sabotage will be in jeopardy, and it will be challenging for countries to build on that progress going forward.
The 2020 NTI Index finds that the global nuclear security architecture today is a patchwork of individual states' domestic regulations and policies, informal groups of countries voluntarily working together to enhance certain aspects of nuclear security, and more formal binding treaties and international organizations.
This patchwork reflects an ongoing lack of political will to effectively connect these elements and to empower multilateral structures.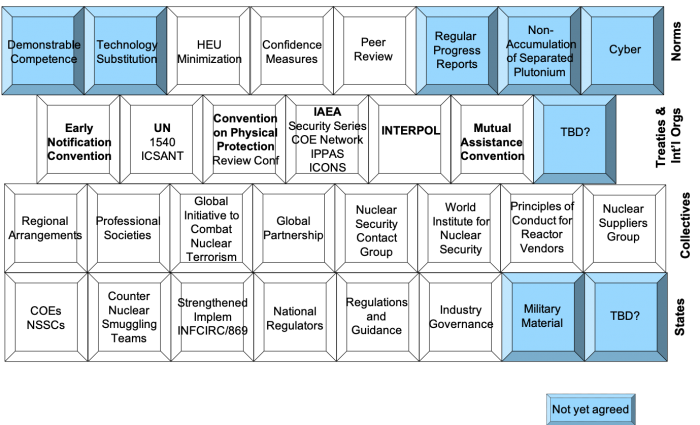 A truly effective system must include the following characteristics. A review of the current architecture shows that these characteristics are not yet fully incorporated.
Comprehensive: All weapons-usable nuclear materials and facilities should be covered by the system, including materials outside civilian programs (or "military materials").
The security of military materials is almost exclusively handled at the national level in the nine countries that possess them, making this one of the biggest weaknesses of the existing architecture. Because of the sensitivity of nuclear weapons to these countries' national security, most international nuclear security instruments only address nuclear material in peaceful use. United Nations Security Council Resolution (UNSCR) 1540 contains a general obligation to apply "appropriate effective physical protection measures" for nuclear weapons and "related materials," but leaves the details to each country. The amended Convention on the Physical Protection of Nuclear Material (CPPNM) mentions the importance of securing military materials, but only in the non-binding preamble. Similarly, the four Nuclear Security Summit communiqués acknowledge that states should "maintain at all times effective security of all nuclear and other radioactive material, including nuclear materials used in nuclear weapons."[1] In addition, only two countries—the United States and the United Kingdom—have made declarations about their military material stocks.
Standards and Best Practices: All states and facilities holding weapons-usable nuclear materials should adhere to international standards and best practices.
The existing architecture has no binding international standards or best practices that all countries follow, making this another weakness. The only binding standards are at the national regulatory level, but as the NTI Index shows, regulations are uneven both in content and in implementation. A number of tools and incentives exist to strengthen nuclear security implementation around the world, but they are no substitute for commonly applied binding standards. The recommendations of the International Atomic Energy Agency (IAEA), while detailed, are non-binding and applied selectively. The amended CPPNM, the only binding treaty requiring protection of nuclear materials and facilities, provides some specificity through "fundamental principles," but contains no verification or enforcement measures and is far from universal. The only universal obligation to protect nuclear materials found in UNSCR 1540 is vague. Informal collectives such as the Nuclear Suppliers Group and countries subscribing to Information Circular (INFCIRC) 869 have promoted greater acceptance of the IAEA's recommendations but have limited memberships and are unlikely to change the recommendations' voluntary nature. The World Institute for Nuclear Security has promoted a valuable set of best practices for implementing nuclear security, but these also are voluntary.
Confidence Building: States should help build confidence in the effectiveness of their security practices and should take reassuring actions to demonstrate that all nuclear materials and facilities are secure.
This once-weak aspect of the architecture has strengthened over time, with increasing acceptance of the value of confidence building and recognition that nuclear security in any given country affects not only its citizens, but also its neighbors and even countries and populations far away. One way to build confidence is for countries to share information about their nuclear security practices through regulations, annual reports, or nuclear security progress reports. Information can be shared at treaty review conferences, through mandatory reporting; annual meetings; regular or special-purpose high-level events; and working-level and expert meetings held by international organizations. In addition, informal collectives can provide venues for information exchange and reporting on nuclear security progress, and peer reviews also help build confidence.
Minimize and Eliminate: States should work to reduce risk through minimizing or, where feasible, eliminating weapons-usable nuclear material stocks and the number of locations where they are found.
This aspect of the architecture, after growing in strength, seems to have weakened. For the first time in a decade, no countries with 1 kilogram or more of highly enriched uranium (HEU) or plutonium have removed or disposed of all of their stocks. Conversely, four countries are increasing their holdings of these materials, whether for weapons production or in connection with peaceful nuclear activities. Despite advocacy and support for minimization and elimination efforts by international organizations, informal groupings, and some countries, actions to minimize and to eliminate nuclear materials have slowed, in some cases owing to technical and political barriers. Although the norm in favor of phasing out civilian HEU use is still strong, there is no similar norm for ending plutonium production.
Photo credit: IAEA / flickr
---
[1] See Nuclear Security Summit 2016 Communiqué, available at http://www.nss2016.org/.