About the NTI Index and the Radioactive Source Security Assessment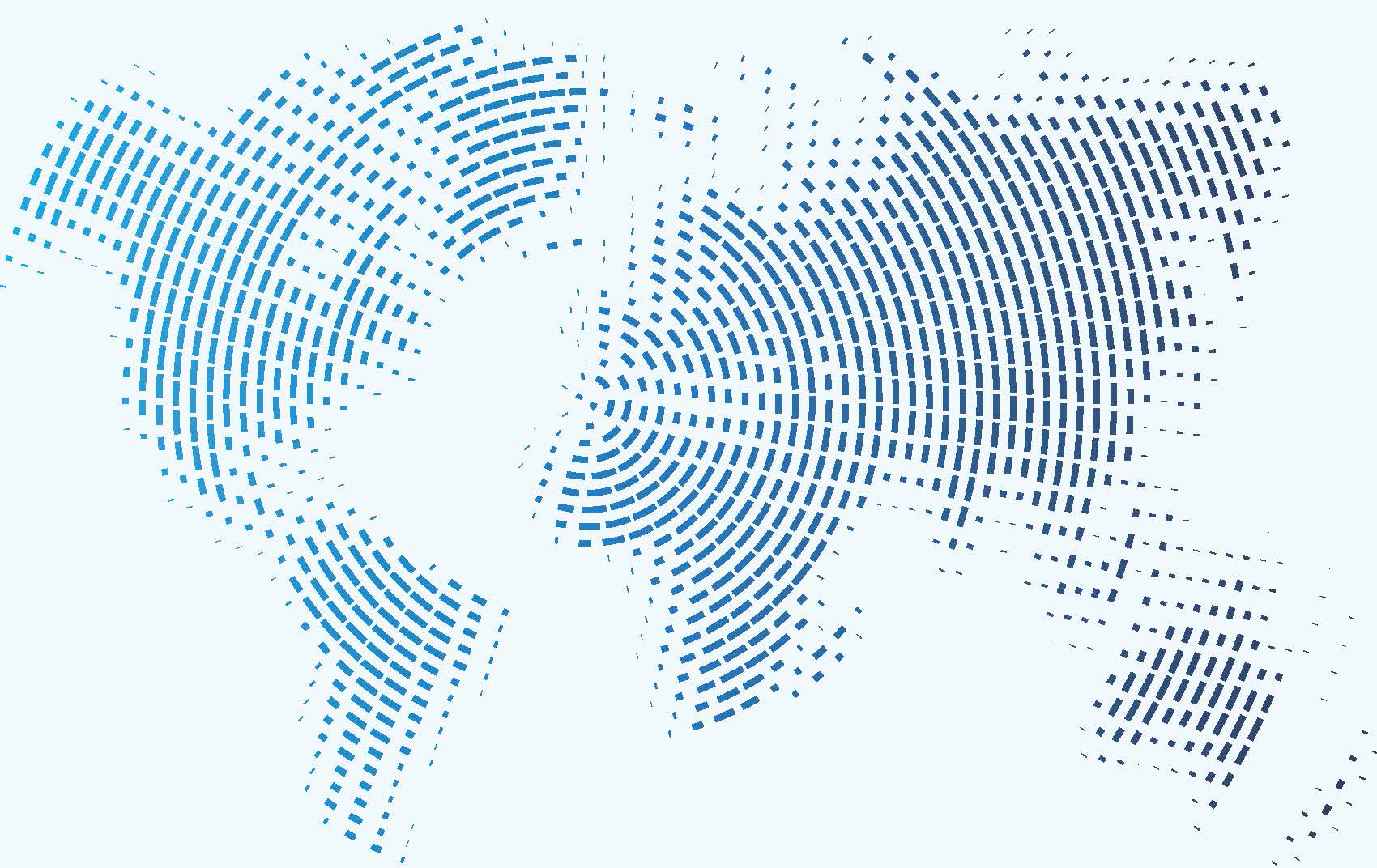 Learn more below about the NTI Nuclear Security Index, the Radioactive Source Security Assessment, the expert advisers, and the NTI Index team.
The NTI Nuclear Security Index
The NTI Index is a globally recognized assessment and tracking of nuclear security conditions in countries around the world. It promotes actions to strengthen nuclear security and build confidence, and it highlights progress and trends over time. Published biennially since 2012, the NTI Index includes two theft rankings and one sabotage ranking:
Theft—Secure Materials: A ranking of 22 countries with 1 kilogram or more of weapons-usable nuclear materials—highly enriched uranium (HEU) and separated plutonium—to assess actions to secure materials against theft
Theft—Support Global Efforts: A ranking of 153 countries and Taiwan[1] with less than 1 kilogram of or no weapons-usable nuclear materials to assess actions to support global nuclear security efforts
Sabotage—Protect Facilities: A ranking of 46 countries and Taiwan with or without weapons-usable nuclear materials, but which have nuclear facilities such as nuclear power reactors and research reactors, to assess actions to protect nuclear facilities against sabotage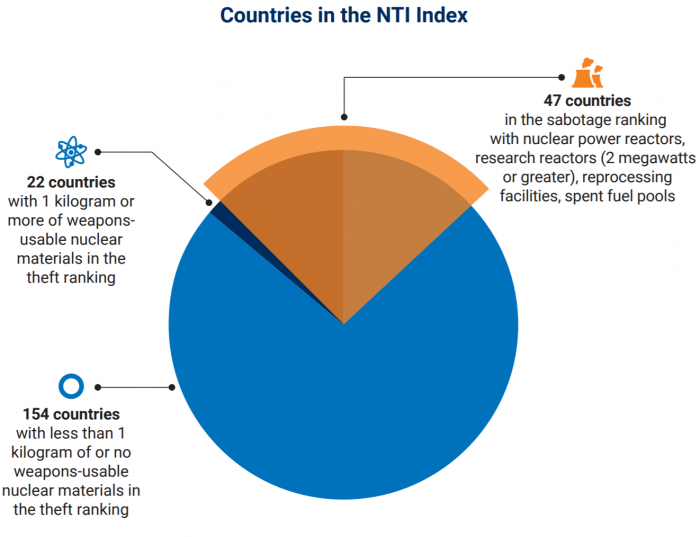 Why an Index?
Nuclear materials that could be used to build a nuclear bomb are located in 22 countries around the world, and 154 other countries without such materials could serve as safe havens, staging grounds, or transit routes for illicit nuclear activities and also must be accountable for their efforts to prevent a nuclear catastrophe with global implications. In addition, 47 countries have nuclear facilities that could be at risk of sabotage, leading to a dangerous release of radioactive materials. Extremist groups interested in committing acts of nuclear terrorism continue to pose risks around the world and their capabilities continue to evolve. Constant vigilance by nuclear operators, governments, and international organizations is needed to keep pace with evolving threats.
The NTI Index was developed to promote country actions to strengthen nuclear security, track progress, identify nuclear security priorities, and build accountability. With its first three editions of the NTI Index timed for release before the 2012, 2014, and 2016 summits, the NTI Index was able to track progress, including actions taken to fulfill summit commitments, in an era when global leadership and political attention on nuclear security were at their highest levels. Keeping track of nuclear security is even more important now that the summits have ended.
Today, the NTI Index can serve a much-needed forcing function for continued progress by highlighting evolutions in best practices and priorities, raising red flags where gaps and challenges remain unaddressed, and promoting action and accountability. The NTI Index also provides an assessment of the health, sustainability, and comprehensiveness of the global nuclear security architecture, including the International Atomic Energy Agency (IAEA) and international treaties.
Index Methodology
Data gathered from publicly available information: The Economist Intelligence Unit (EIU) conducts all of the research for the NTI Index using publicly available information, such as national laws and regulations, treaty databases, and other primary and secondary sources. The NTI Index does not review on-the-ground security but rather assesses national-level actions, such as the comprehensiveness of a country's regulatory framework, its commitment to global norms, and its participation in global initiatives.
Government input provided through data confirmation: Countries with weapons-usable nuclear materials and/or nuclear facilities have an opportunity to review and comment on the NTI Index data before the Index is published so that it is as accurate and up-to-date as possible. This data confirmation process increases transparency and provides a foundation for productive engagement with governments on the Index results. Of the 49 countries with weapons-usable nuclear materials and/or nuclear facilities, 27 took advantage of this opportunity.[2]
Advised by an international panel of experts: The NTI Index is designed to represent international perspectives about nuclear security priorities. To help achieve this, decisions about the elements of the NTI Index frameworks and how those elements are prioritized through weighting are made with input from an international panel of experts.
What the NTI Index Measures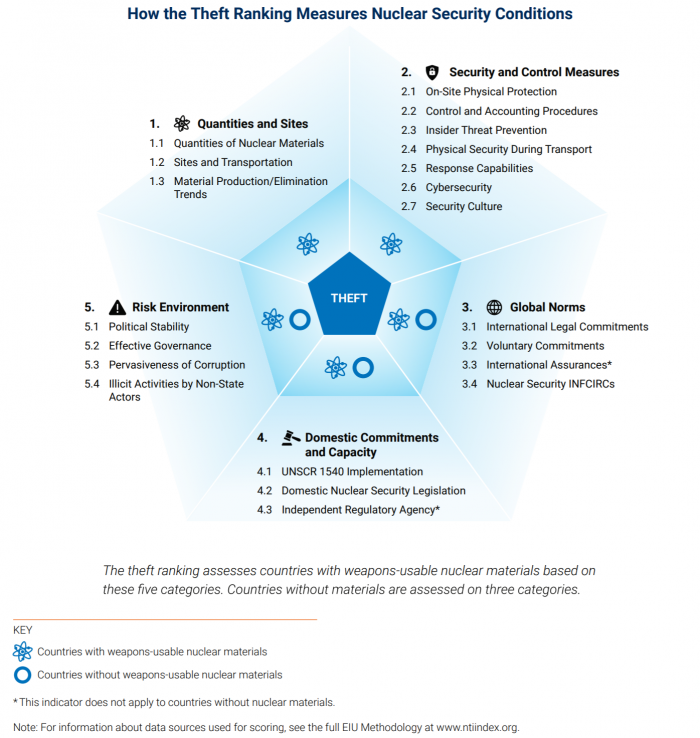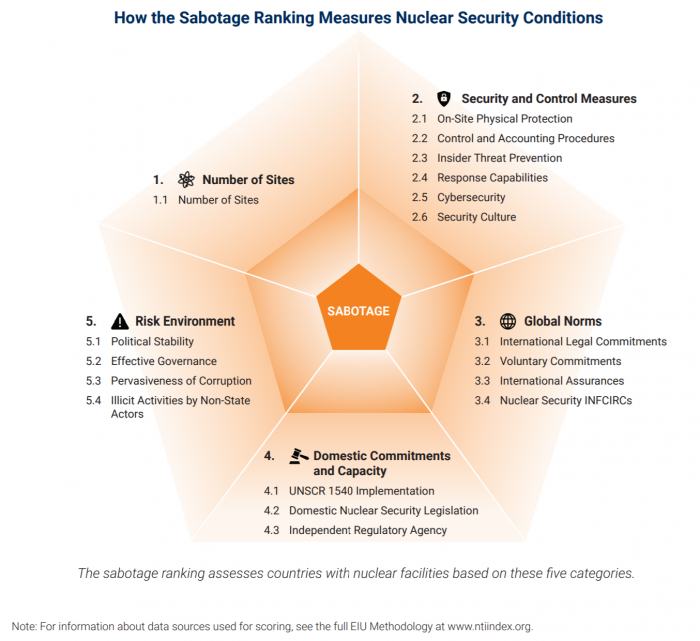 The frameworks for the three rankings differ slightly from each other but, in general, include a variety of factors that impact a country's nuclear security conditions:
Quantities and Sites captures the quantity of nuclear materials, the number of sites, and the frequency of transport in a particular country, all related to the risk that materials could be stolen. In addition, it includes a leading indicator as to whether the country is increasing or decreasing its overall material quantities. This category is not included in the theft ranking for countries without materials. The sabotage ranking looks at only the number of sites, not quantities of material.
Security and Control Measures encompasses the core activities directly related to protection and accounting of nuclear materials. It includes indicators of physical protection, control and accounting, insider threat prevention, security during transport, response capabilities, cybersecurity, and security culture. This category is not included in the theft ranking for countries without materials.
Global Norms includes actions that contribute to the establishment of global norms for nuclear materials security. It includes important international legal commitments, voluntary participation in a number of global initiatives, international assurances, and nuclear security information circulars (INFCIRCs).
Domestic Commitments and Capacity includes actions that indicate how well a country has implemented its international commitments and its capacity to do so. This category includes the extent of United Nations Security Council Resolution 1540 implementation, the status of legislation to implement the Convention on the Physical Protection of Nuclear Material (CPPNM) Amendment, and the presence of an independent regulatory agency.
Risk Environment includes contextual factors, such as political stability, effective governance, corruption, and illicit activities by non-state actors that can affect a country's ability to implement effective security and regulatory oversight.
The NTI Index assesses the risk of theft of weapons-usable nuclear materials and the risk of sabotage of nuclear facilities. It does not assess a country's actions related to smuggling and illicit trafficking, non-proliferation, or disarmament.
How the Index is Scored
Countries are scored on a scale of 0 to 100, where 100 is the top score. Weights are applied to categories and indicators to reflect relative priorities. Overall scores are calculated on the basis of the weighted sum of category scores. Category scores are the weighted sum of the indicator scores within that category. Indicator scores are the sum of the subindicator scores normalized on a scale of 0 to 100. A low score is between 0 and 33, a medium score is between 34 and 66, and a high score is between 67 and 100. For a detailed explanation of the scoring methodology, see the full EIU Methodology.
---
[1] Taiwan is included in the theft ranking for countries without nuclear materials and the sabotage ranking. Given Taiwan's status, "About the Nuclear Security Index" describes the number of countries in the NTI Index as "153 countries and Taiwan" and "46 countries and Taiwan" in the theft and sabotage rankings, respectively. Further references to numbers of countries in the report and website include Taiwan. For more on how Taiwan is treated in the Index, see the full EIU methodology.
[2] Those 27 countries are Argentina, Australia, Belgium, Brazil, Canada, Chile, China, Czech Republic, Finland, France, Germany, Hungary, Italy, Japan, Mexico, Netherlands, Norway, Poland, Romania, Slovenia, South Korea, Sweden, Switzerland, Taiwan, the United Arab Emirates, the United Kingdom, and the United States.
---
About the Radioactive Source Security Assessment
Thousands of radioactive sources used in countries around the world for medical, industrial, agricultural, research, or other purposes could be stolen and used in a dirty bomb. Not only are these sources widely used, but they are housed in locations that lack high levels of security, such as hospitals, universities, and other industrial settings. Because a dirty bomb is relatively easy to construct, its use is more likely than a nuclear weapon. It would not result in large numbers of deaths or injuries, but the consequences would still be serious: large-scale economic costs stemming from cleanup and inability to use the affected area for years, environmental damage, and psychological terror.
Why a Radioactive Source Security Assessment?
The Radioactive Source Security Assessment aims to do the following:
Build greater awareness of the importance of securing radioactive sources.
Catalyze a dialogue about priorities for strengthening radioactive source security.
Promote progress in securing radioactive sources and in reducing the quantities of the most dangerous radioactive sources and applications, including through the use of alternative technologies.
Highlight leading practices in radiological security, including supporting global norms.
Provide a unique resource that sets a baseline understanding of the status of global radiological security.
Promote reporting, information sharing, and benchmarking of national and international commitments and actions on radiological security.
Assessment Methodology
Unlike the NTI Nuclear Security Index, the new Radioactive Source Security Assessment does not score or rank countries. The methodology also does not involve in-depth country research. Instead, the assessment relies on existing databases and other sources of consolidated information. In future years, NTI may expand the assessment to include scores, ranks, and more in-depth research.
A separate panel of international radiological security experts advised the development of the Radioactive Source Security Assessment.
What the Radioactive Source Security Assessment Measures
National Measures assesses a country's domestic policies, commitments, and actions for managing and securing radioactive sources.
Global Norms assesses a country's international commitments and support for global norms around radioactive sources, such as the IAEA Code of Conduct on the Safety and Security of Radioactive Sources and its Supplemental Guidance.
Alternative Technologies assesses a country's commitment to supporting the development and implementation of alternative technology to high-activity radioactive sources, as well as each country's capacity to sustainably implement alternative technologies to high-activity radioactive sources.
Risk Environment: Similar to the NTI Index, the Radioactive Source Security Assessment includes indicators of a country's risk environment.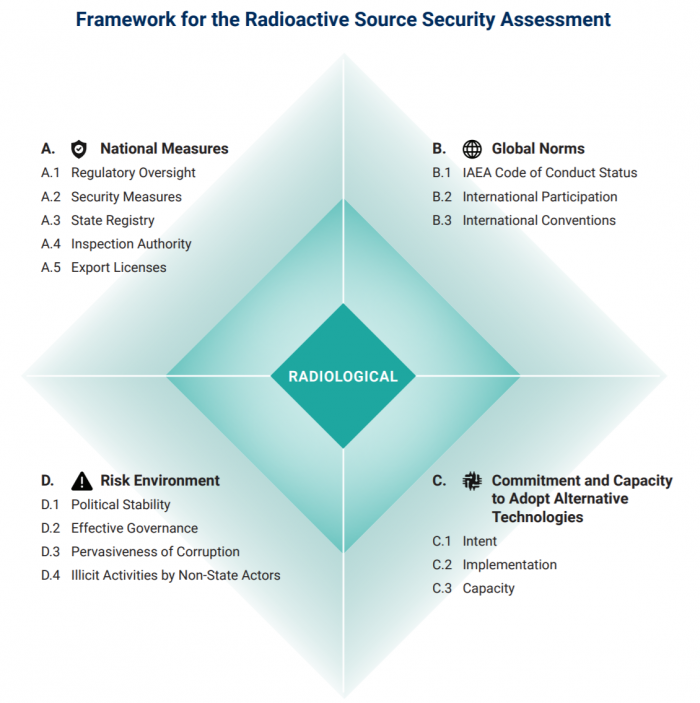 ---
About the Expert Panels
To develop each edition of the NTI Index, the Economist Intelligence Unit (EIU) and NTI convene a panel of highly respected nuclear security experts with a broad range of expertise from both nuclear- and non-nuclear weapon states around the world. This year, NTI and EIU also sought advice from experts for the new Radioactive Source Security Assessment and from experts on terrorism.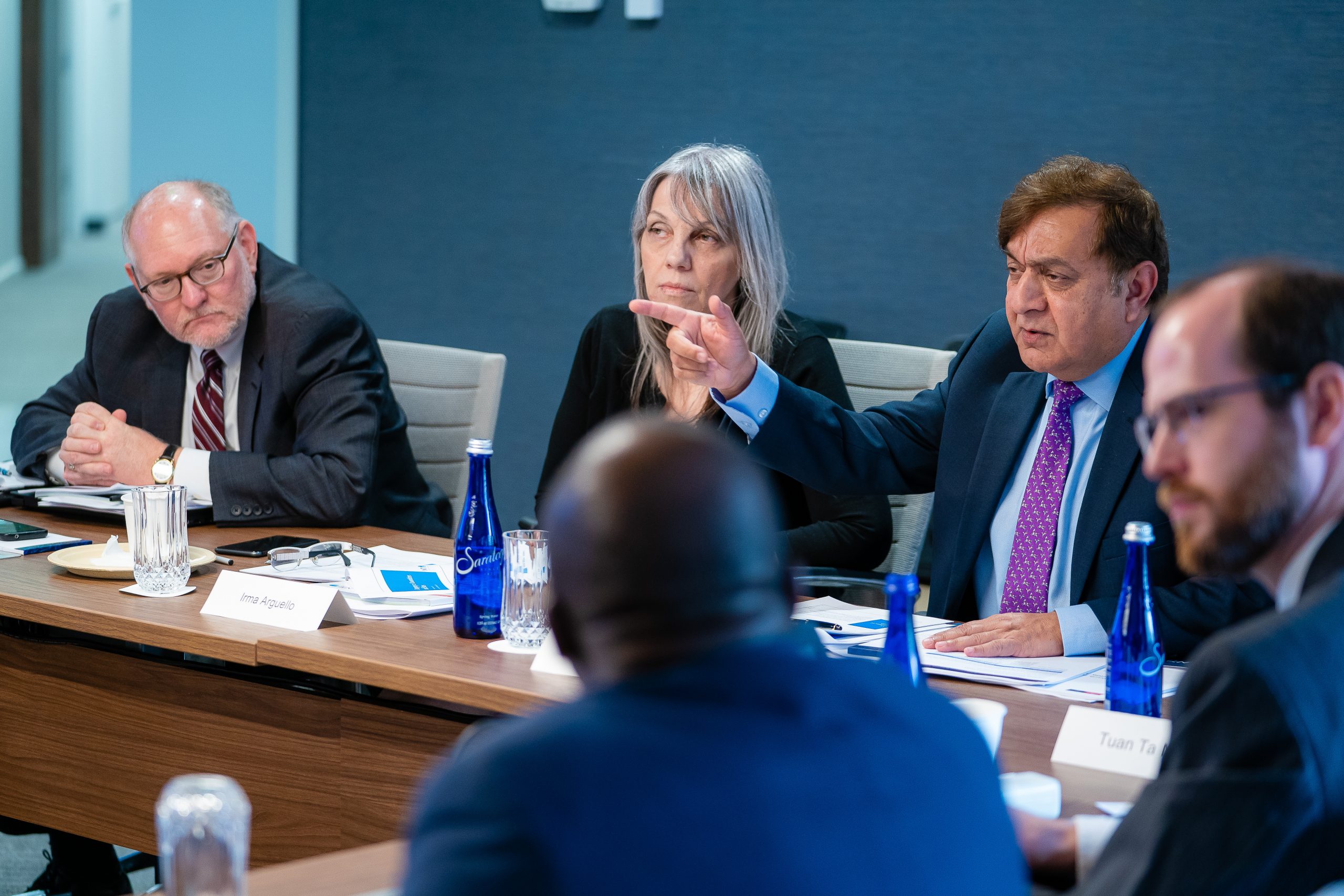 International Panel of Experts
The International Panel of Experts was instrumental in considering options for strengthening the 2020 NTI Index as part of an effort to raise standards and promote continuous improvement. The panel's input also helps ensure that the NTI Index reflects an international point of view and ongoing international discussions about nuclear security priorities.
Panel members do not represent their country's interests, nor do they score individual countries. Instead, they play an advisory role in their personal, not professional, capacities. Participation in the NTI Index as a member of the International Panel of Experts does not imply endorsement of every aspect of the NTI Index, nor does it imply endorsement of the Index's findings and recommendations. Panel meetings demonstrate a range of views and highlight the need for a continuing dialogue on nuclear security priorities.
Dauren Aben, Senior Research Fellow, Eurasian Research Institute
Irma Arguello, CEO, Nonproliferation for Global Security Foundation
Kelsey Davenport, Director, Nonproliferation Policy, Arms Control Association
Anna Ellis, Principal Consultant, Indigon Nuclear
Hubert Foy, Director and Senior Research Scientist, African Centre for Science and International Security (AFRICSIS)
Roger Howsley, Executive Director, World Institute for Nuclear Security
Feroz Khan, Research Professor, U.S. Naval Postgraduate School
Masahiro Kikuchi, Former Executive Director of the Nuclear Material Control Center, Japan; CEO KIKURIN Institute of International Politics and Technology
Dmitry Kovchegin, Independent Consultant
Frans Mashilo, Head of Security, Council for Scientific and Industrial Research (CSIR)
Khammar Mrabit, Director General, Moroccan Agency for Nuclear and Radiological Safety and Security
Steve Nesbit, President, LMNT Consulting
Anita Nilsson, Executive Director, AN & Associates
Rajeswari Rajagopalan, Head, Nuclear and Space Policy Initiative, Observer Research Foundation
Nickolas Roth, Director, Nuclear Security Program, Stimson Center
Michael Rowland, Consultant, Practical Reason Inc.
Ta Minh Tuan, Associate Professor, Diplomatic Academy of Vietnam
Hui Zhang, Senior Research Associate, Belfer Center for Science and International Affairs, Harvard University
Radiological Security Experts
NTI and the EIU convened a separate group of experts to inform the development of the new Radioactive Source Security Assessment. The radiological security experts represented the scientific, technical, commercial, and regulatory communities involved in securing and using radioactive sources in various applications.
Tom Bielefeld, Nuclear Security Research and Consulting
Christopher Boyd, Consultant, Former Assistant Commissioner of NYC Department of Health
Nicholas Butler, Deputy Director, Office of Radiological Security, National Nuclear Security Administration
Martin Comben, General Manager, International Irradiation Association
Charles Ferguson, Director, Nuclear and Radiation Studies Board, The National Academies of Sciences, Engineering, and Medicine
Ourania (Rania) Kosti, Senior Program Officer, Nuclear and Radiation Studies Board, The National Academies of Sciences, Engineering, and Medicine
Pierre Legoux, Head of Programmes, World Institute for Nuclear Security
Frederic Morris, Research Scientist, Pacific Northwest National Laboratory
Anita Nilsson, Executive Director, AN & Associates
Nickolas Roth, Director, Nuclear Security Program, Stimson Center
Mary Vecellio, Research Associate, Partnerships in Proliferation Prevention, Stimson Center
Paul Wynne, Chairman, International Irradiation Association
Terrorism Experts
A third smaller group of terrorism experts also was convened to provide input on adjustments to the indicator on non-state actors (Indicator 5.4).
Daniel Benjamin, Norman E. McCulloch Jr. Director, The John Sloan Dickey Center for International Understanding, Dartmouth College
Ambassador Susan Burk, Independent Consultant
Erin Miller, Principal Investigator, Global Terrorism Database, National Consortium for the Study of Terrorism and Responses to Terrorism (START), University of Maryland
Jeffrey Muller, CBRN Expert,Countering Terrorism Section,United Nations Office of Counter-Terrorism/United Nations Counter-Terrorism Centre
Nickolas Roth, Director, Nuclear Security Program, Stimson Center
Anne Witkowsky, Consultant, Former Deputy Assistant Secretary of Defense for Stability and Humanitarian Affairs
---
About the NTI Index Team
Development of the NTI Index was led by NTI Vice President for Materials Risk Management Laura Holgate and Senior Director for Materials Risk Management Samantha Neakrase, with support from Program Officer Jack Brosnan.