Finding
Since 2020, countries and areas have made minimal progress on radioactive source security and are not sufficiently adhering to baseline radiological security measures.
Data Highlights
147 countries maintain a regulatory oversight body for radioactive sources, but almost no progress has been made to establish new regulators in the remaining 28 countries and Taiwan without such bodies since 2020. (See Figure 10.)
Just 76 countries with radioactive sources have enacted and implemented a basic legal requirement that they protect these materials from theft.
49 countries with radioactive sources maintain a national registry to track the movement of these sources within their borders.
Only 11 countries have committed to replacing the most dangerous high-activity radioactive sources with equally effective alternative technologies, and there has been no progress securing new commitments.
Data Visualizations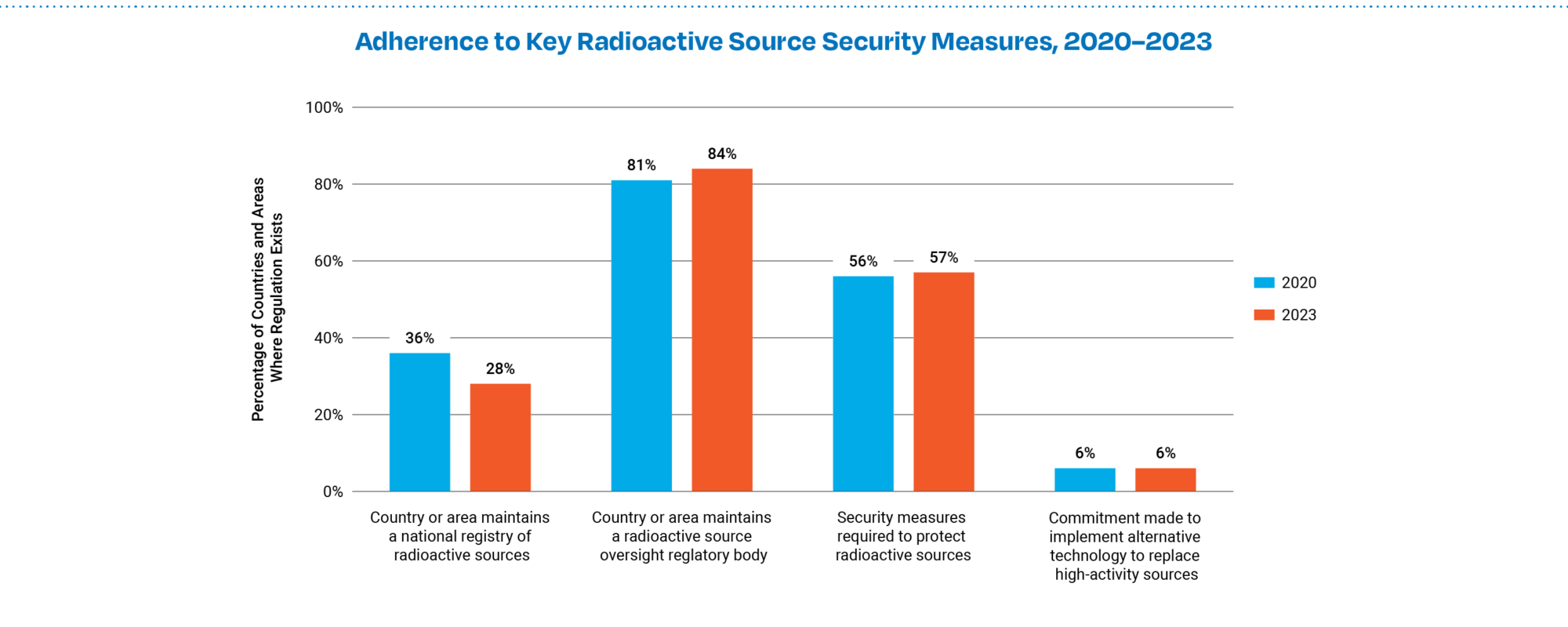 Recommendations
Countries and areas should establish regulatory measures to track and control the movement of radioactive sources. National registries allow countries to monitor the quantity, location, and activity of sources and their movement across borders—an essential component of stronger security.
Countries and areas should enact basic laws to protect radioactive sources from theft. Without legally requiring the adequate protection of radioactive sources, barriers to access for a determined terrorist remain frighteningly low.
Countries and areas should commit to replacing high-activity radioactive sources, which pose the greatest threat because they emit higher doses of radiation. By forgoing high-activity sources in favor of alternative technologies, the research and industrial work that the high-activity sources enabled can proceed without the risk of a lost, stolen, or orphaned source being used in a dirty bomb.
Countries should commit to implementing the International Atomic Energy Agency's (IAEA) Guidance on the Management of Disused Radioactive Sources, which requires users of radioactive sources to dispose of them in a safe, secure, and timely manner. Countries should then notify the IAEA of their commitment.